DIY Uniquely Decorated Easter Eggs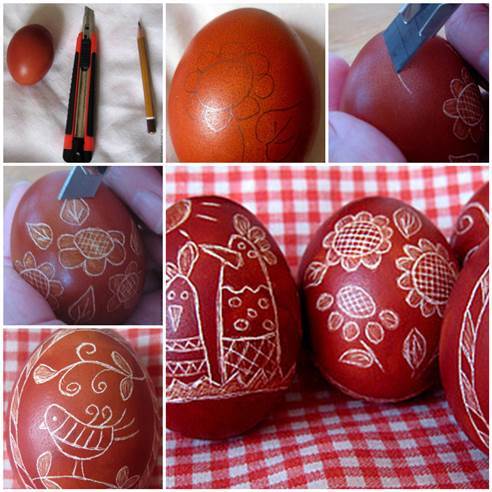 Today I am excited to feature this wonderful DIY project to make some uniquely decorated Easter eggs. The technique used here is called Drapanki, which is one of the traditional Polish techniques to make richly ornamented eggs. It involves scratching the surface of a dyed egg with a sharp tool to reveal the original color of the egg shell, which is usually white. It's a very easy-to-do project but make sure you don't use a very sharp knife. A basic office knife will do. You can draw whatever you like on the eggs, such as flowers, birds, chickens and other common themes of Easter. Anyway, it's all about your creativity. Enjoy!
By the way, to make the brown eggs, you'll need another Polish egg decorating technique called Kraszanki, which involves boiling an egg in water with plants or other natural stuffs. The color of the egg depends on the kind of stuff used. For example, the brown color of the eggs featured in the photo is from onion peels.