Creative Ideas – DIY Easy Greenhouse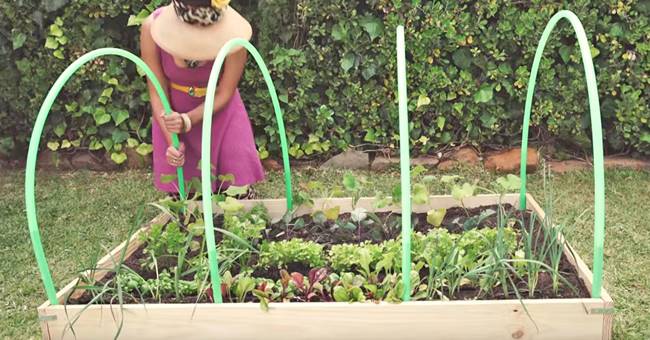 Spring is here! That means another planting season is coming! Gardening is a fun, inexpensive, rewarding and relaxing outdoor activity. If you want to grow your own veggies, herbs or fruits, now is best time to get started. We have shared with you many great DIY raised garden bed ideas. How about building a greenhouse on your garden bed to protect the plants? A greenhouse is essential if you want to start your growing season earlier and enjoy your harvests earlier and longer.
You don't have to spend extra money buying a greenhouse from the stores. With creativity, a little bit of time and patience, you can build your own greenhouse easily. In this tutorial, garden expert Suzelle shows us how to make an easy greenhouse using a few simple materials such as hula hoops, a hose pipe, shade cloth and gardening tools. The end result looks great and fits perfectly on a small raised garden bed. It is also easily assembled and portable. Check out the video for the detailed instructions. If you are interested in Suzelle's other garden projects, please visit her YouTube channel SuzelleDIY. Enjoy!
(source: SuzelleDIY)
Please share this useful tutorial with your family and friends!