30+ Brilliant Mom Hacks That Will Make Your Life Easier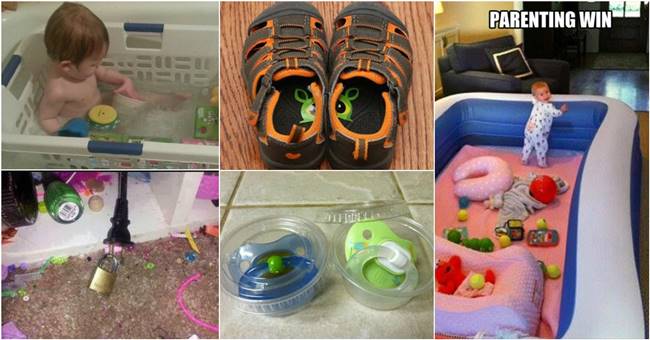 Being a mom is not easy. Being a mom with small kids can be even harder. We always want to keep our kids safe, clean and organized, but sometimes we may feel tired, frustrated and helpless in handling all kinds of situations. That's why we need some tips and tricks for just about everything we need to do for our kids. Here we have rounded up more than 30 brilliant mom hacks that will make your life easier. You'll be surprised how simple and useful they are to help you save time and money. Hopefully you'll try at least one of them to make your life a little easier. Enjoy!
1. Put a padlock through the hole of the plug to prevent kids from connecting it to the circuit.
2. Use a laundry basket to make bath time safer and to prevent toys from floating away.
3. Put a sticker that is cut in half in your toddler's shoes to help them wear their shoes on the correct feet.
4. Use an inflatable pool as a safe play area for your toddler.
5. Use a plastic cup to keep the little hands safe when they are playing sparklers.
6. Store pacifiers in basic souffle cups to keep them clean and to make it easy to carry in bags.
7. Cut an empty lotion bottle into a simple faucet extender for the little ones to use.